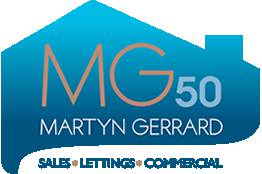 About Us
Martyn Gerrard
Established in 1964 Martyn Gerrard Estate Agents is one of the largest independent estate agents in the North and North West London. We have 10 branches in all of the primary locations where the more prestigious properties are to be found. <p> The Board of Directors have collectively over 120 years of experience in the North London property market. We are incredibl;y proud to have celebrated our 50th birthday in 2014.

Year Established
Number of staff
4
Web Site
Contact Information
Contact this branch
Email
alastairs@martyngerrard.co.uk
Address
1286 High Road
Whetstone
Greater London
N20 9HH
London
UK
Opening Hours
No information available
Reviews
13/01/2018
House sale
Roberto recently supported us with the sale of what had been our first home. He provided guidance throughout the process and kept us regularly updated with progress. I really appreciated his persistence in chasing numerous parties for status updates, this allowed us to meet the completion aim of mid-December and meant we were in our new home for Christmas. Many thanks Roberto!
By Laura Hong
26/11/2017
Very helpful and supportive agent, great experience for a change
Though our property hasn't gone through yet, Marco has certainly changed our view about estate agents, we have had a nightmare with buying our first property but he has always been supportive, communicative and trying to either allay our fears or being informative each step of the buying process. We hope to be able to have purchased the property in the next few weeks, but without his help, we might have given up by now given our previous experience with estate agents. Would thoroughly recommend Marco for any perspective buyers or sellers.
By Zi-Han Su
24/11/2017
23/11/2017
excellent service
I have worked with Marco Moloudi to sell my property in New Southgate. I have found him to be extremely professional and helpful and he has been excellent at proactively and regularly updating me on progress and dealing with queries effectively and in a very timely manner.
By Nicholas Wells
20/11/2017
Terrible communication
I had organised a viewing with him. He moved it twice and when we agreed on a time in the end he was 30 mins late and failed to call me To explain that he was "stuck in traffic". He did not even apologise and said "it is what it is".
By Beijul Shah
Reply from agent
Good afternoon Beijul I would like to look into this further for you but I need a little more information so I can investigate this properly for you. when was the viewing and at which property?
08/11/2017
Mr Roberto Saraby
Roberto has always been very professional and has excellent local knowledge of the area. He has helped me greatly with my property search and I would highly recommend him to anyone looking to sell or buy.
By Kei Takagi
* We only display 5 "Most Relevant" Google reviews
Memberships
No membership services information available
Marketing
No marketing services information available
Awards
No award information available
Statistics
Average price in this area
Average Time on Market in this area