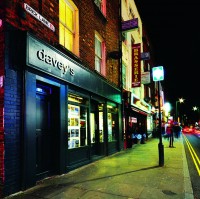 Our team
Download our App to find out more about individual agents
About Us
Daveys of Spitalfields
Davey's of Spitalfields is an independent estate agency based on Brick Lane, E1 in the heart of the east of London. We are a dynamic and committed agency offering a bespoke service for all your sales, letting and investment requirements. - See more at www.daveys.co

Year Established
Number of staff
1
Web Site
Contact Information
Contact this branch
Email
info@daveys.co
Sales Phone
020 7871 9599
Sales Email
info@daveys.co
Lettings Phone
020 7871 9599
Lettings Email
info@daveys.co
Address
65 Brick Lane
Spitalfields
London
E1 6QL
London
UK
Opening Hours
No information available
Reviews
22/12/2015
Personal and Professional Service from Knowledgeable People!
I took great care in selecting the agents for my first foray into the world of property rental. I visited many agents in the area before finding Daveys. Immediately, I could tell that Daveys would be my choice. Liam explained everything to me in simple terms and made the whole process very easy. Both Liam and Stuart worked hard to find me tenants and so far there have been no issues. Any maintenance points have been dealt with promptly and professionally. I feel safe in the knowledge that Liam or Stuart are always available at the end of the phone if I have any questions. Thoroughly recommend and can see myself with Daveys for a long time!.
By Mike Coates
07/12/2015
Independent Agency who knows the market well
Having dealt with Davey's when we sold our development in Brick Lane 2 years ago, they seemed like an obvious choice when we sold our new development in Artillery Lane, London E1 and they did not disappoint this time. Throughout the process, Liam kept us regularly informed in respect of viewings and sales progress and always offered a cheerful and friendly service. I would have no hesitation in recommending Davey's of Spitalfields to anyone who is serious about selling their property and I look forward to dealing with them again in the near future.
By Paul Smeeth
02/12/2015
Excellent service - Recommended
Stuart in particular plus Liam at Daveys were extremely helpful, they always followed up calls and kept us informed and having dealt with five other estate agents in Whitechapel, they are head and shoulder above the rest. Fully recommend them.
By malcolm mcglynn
02/12/2015
Responsive and always ready to help
No stereotyped mass marketing material here. Just a personalised service offering commonsense solutions when rquired. Refreshing!
By Andrew Payne
16/08/2015
Best decision so far!
Daveys' team presented their services without a hard sell, very honest and frank. They got started straight away, took wonderful pictures and their local knowledge attracted a number of possible tenants for viewings. .When the final candidate were found, they worked with both of us to ensure we were happy with move. I can't recommend them enough or thank them enough for their support!
By dasan nur
23/07/2015
None of the usual 'hard sell'
A breath of fresh air in comparison with other agents I spoke to. Honest valuation, realistic expectations, plenty of useful advice for a first time landlord. A pleasure to deal with and would highly recommend.
By David Tippleston
* We only display 5 "Most Relevant" Google reviews
Memberships




Marketing
No marketing services information available
Awards
No award information available