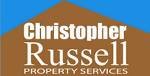 Our team
Download our App to find out more about individual agents
About Us
Year Established
Number of staff
1
Web Site
Contact Information
Contact this branch
Email
sales@christopher-russell.co.uk
Sales Phone
020 8300 1234
Sales Email
sales@christopher-russell.co.uk
Address
33 The Oval
Sidcup
Kent
DA15 9ER
South East
UK
Opening Hours
No information available
Reviews
27/04/2018
Fantastic Service!
I have been dealing with Nicole and Lisa over the past few months and they have been absolutely fantastic! They are extremely knowledgeable, polite and they me updated. Can't ask for any more.
By Shane Foo
10/04/2018
Welcoming, polite and professional
Lisa Holloway was the person who showed us our first properties. She made us feel very at ease and was very informative. We were impressed and would recommend Christoper Russell due to our experience with the personnel involved with the business.
By Sam Williams
03/04/2018
Excellent Vendor customer service
This is the second time I have used Christopher Russell and, as before, the service from Russell valuing the property to now being under offer has been excellent. The whole sales team have been great - Lisa, Nicole, Hannah, Joe accompanied all viewings for us - we found this extremely helpful and stress free. Feedback on the viewings was given back to us quickly and honestly. Would highly recommend!
By Jacqui Harris
29/03/2018
Good Service
I'm currently looking at properties with Lisa. She always provides a good service and keeps me posted on any new properties that come to the market.
By Bernie Cairns
16/03/2018
I've have been out looking at house with Lisa Holloway at Christopher Russell for a few weeks now. She always calls me with new properties that become available and is always happy to help. I'm yet to find my prefect home and I hope its with Christoper Russell. Your are all doing a fab job. Thank you
By Ann Cairns
13/03/2018
Fantastic service
I recently began looking for my first house and started with a local agent, Christopher Russell. They're always so helpful and I am especially happy with Hannah Glazebrook as she was always willing to go out of her way to help. Thank you!
By David Johnson
* We only display 5 "Most Relevant" Google reviews
Memberships
No membership services information available
Marketing
No marketing services information available
Awards
No award information available
Statistics
Average price in this area
Average Time on Market in this area