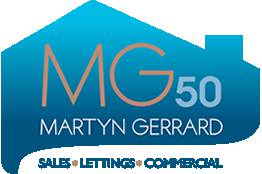 About Us
Martyn Gerrard
Established in 1964 Martyn Gerrard Estate Agents is one of the largest independent estate agents in the North and North West London. We have 10 branches in all of the primary locations where the more prestigious properties are to be found. <p> The Board of Directors have collectively over 120 years of experience in the North London property market. We are incredibl;y proud to have celebrated our 50th birthday in 2014.

Year Established
Number of staff
6
Web Site
Contact Information
Contact this branch
Email
alastairs@martyngerrard.co.uk
Address
773 High Road
North Finchley
Greater London
N12 8JY
London
UK
Opening Hours
No information available
Reviews
14/03/2018
Proactive and reliable
I appreciated to deal with Laurence that found immediately a nice property for me and my partner, with a good match for the price, the location and, in general, our living needs. So to anyone who looks for renting, I advise to get in touch with him because he could be very helpful.
By Erika Lippolis
26/02/2018
Everything went smooth
Just rented a flat with Laurence help and everything went smooth, he answered promptly to all my questions, kept in touch with the process updates. I would definitely recommend him and M&G to my friends.
By Claudia Spiridon
21/02/2018
Lettings agent who are true professionals
I have been extremely impressed with the service received from Andrew and Laurence in relation to the letting of my flat. They promptly organised the letting of my flat and took the time to clearly explain the process and all of the options available. Laurence, who attended some of the viewings ,was well presented, well informed and very professional. A great team headed by Andrew. Well done!
By Nora Talbi
08/02/2018
Great job of selling our home
We had a great experience with Martyn Gerrard. From a realistic valuation - to a good flow of interest with respect to times we said we couldn't offer viewings - through to a successful sale. Kastro was always easy to get hold of and did a great job of getting the sale through.
By Jonathan Oddy
08/02/2018
Kastro David
Kastro dealt with a difficult purchase and chain in a very professional manner. Without his assistance the purchase would probably not have materialized and this is precisely why we need people as estate agents and not computers.
By Robert Shutler
22/01/2018
Review for Kastro David - North Finchley Branch
I would highly recommend Kastro for selling your property as he was professional at all times and knew how to sell my property the best way possible. I felt confident with him. We also bought our new home through Kastro and again he remained professional at all times, Answered any questions I had and was always on the other end of the phone. I felt he went out of his way to make all parties involved happy. I also felt the team at North Finchley were kept up to date with our purchase and sale so felt confident that if Kastro was out the team were able to assist with any questions. Thanks again
By Eva Skinner
* We only display 5 "Most Relevant" Google reviews
Memberships
No membership services information available
Marketing
No marketing services information available
Awards
No award information available
Statistics
Average price in this area
Average Time on Market in this area