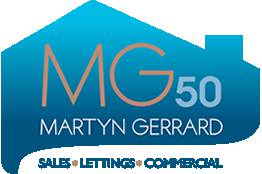 About Us
Martyn Gerrard
Established in 1964 Martyn Gerrard Estate Agents is one of the largest independent estate agents in the North and North West London. We have 10 branches in all of the primary locations where the more prestigious properties are to be found. <p> The Board of Directors have collectively over 120 years of experience in the North London property market. We are incredibl;y proud to have celebrated our 50th birthday in 2014.

Year Established
Number of staff
8
Web Site
Contact Information
Contact this branch
Email
alastairs@martyngerrard.co.uk
Sales Phone
0208 444 3388
Sales Email
n10@martngerrard.co.uk
Address
300 Muswell Hill Broadway
Muswell Hill
Greater London
N10 2QR
London
UK
Opening Hours
No information available
Reviews
20/09/2018
Got us the perfect home quickly
By Alina Copilul
14/06/2018
Marley and Andy in Muswell Hill really great
Both guys helped us find a new home in super fast time. They understood what we needed and really delivered. Really friendly, flexible and great at finding a fair compromise between landlord and tenant. Given this is first time I've rented in 17 years it was an easy experience and that was down to them. Thank you.
By Lee McGuirk
26/04/2018
Excellent tenant / property matchmaker
We were very lucky to have the charming Andy as our agent when looking for a rental. As we had been living abroad over the last 10 years we did not tick all the "perfect tenant" boxes. Andy managed to secure a wonderful find for us that had a lot of competition, as it was unusual for Muswell Hill - a modern, warm, cosy, quiet new build flat within minutes from the Broadway. Throughout the negotiations, Andy always kept us updated and pushed ahead until we finally got the keys.. Recommended!
By Elizabeth Hill
29/03/2018
1 word amazing ( Anthony )
From beginning to end have to say Anthony ( muswell Hill ) was amazing going above and beyond He's job to make our move the smoothest most enjoyable experience! We've done this a few times
By Tanju Salih
23/03/2018
Brilliant help
Chris has been wonderful in helping us find our perfect house, such a massive help every step of the way and is even showing us around the new house on his day off! Thank you, Chris!
By Emily Cressey
23/03/2018
Chris is a star!
Chris from lettings was incredibly responsive throughout my new flat-hunt, always willing to help work with my schedule to show me properties that might be suitable. And I owe him a beer for finding me the perfect one! I threw several curve-balls at Chris throughout the process, and he handled them with ease, he's reassuringly supportive, and I felt he had my back in getting me through the process. I never felt like I couldn't reach out with any query, big or small. Thanks Chris!
By Rachael Webb
* We only display 5 "Most Relevant" Google reviews
Memberships
No membership services information available
Marketing
No marketing services information available
Awards
No award information available
Statistics
Average price in this area
Average Time on Market in this area