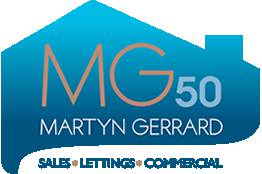 Our team
Download our App to find out more about individual agents
About Us
Martyn Gerrard
Established in 1964 Martyn Gerrard Estate Agents is one of the largest independent estate agents in the North and North West London. We have 10 branches in all of the primary locations where the more prestigious properties are to be found. <p> The Board of Directors have collectively over 120 years of experience in the North London property market. We are incredibly proud to have celebrated our 50th birthday in 2014.

Year Established
Number of staff
3
Web Site
Contact Information
Contact this branch
Email
alastairs@martyngerrard.co.uk
Sales Phone
020 8348 5135
Address
45 The Broadway
Crouch End
Greater London
N8 8DT
London
UK
Opening Hours
No information available
Reviews
12/03/2019
You have to all the work!
I was very satisfied with Martyn Garrard when I bought my Stroud Green home from them a few years ago. However, their lettings department is beyond poor. Poor and confusing advice including stating that they would submit the HMRC tax withholding form when it is the landlord's responsibility. Had to deal with the tenants directly to ensure that all the requirements were done such as cleaning, inventory and electrical inspections. Took over 2 months to get a response on charges and then refused to accept any responsibility for not dealing with my complaint in a timely or professional manner! Sorry to say, I would not use them again
By Michael Colella
30/08/2018
my recent purchase
"I bought this house through Dario Esposito at MG. It was a probate sale and completion took place in November 2016. There were many hiccups along the way which could easily resulted in the purchase falling by the way side. I learnt how much hard work by the agent can be required for such a sale especially in quiet and more challenging house market conditions. My impression of estate agents had been coloured by the easy money to be made during the boom years. I have had now had to revise my views, and now understanthat in more challenging conditions the underlying qualities of an agent- such as training, market knowledge persistence, social skills, etc- counts for a lot, and will increasingly make the difference between closing a sale and not closing a sale. I nearly gave up on my purchase but because Dario remained confidence we could close the deal I persisted, we were able to work things out; we did indeed eventually close the deal. I spotted Dario working late on several occasions. I think it must have been after 6.30. Neighbouring agents in the High Road had clearly packed up and gone home."
By Andrew Cherniavsky
02/08/2018
Thank you Jessica and Anthony
The reviews I read about Martyn Gerrard led me to select the agency despite not being so present in South Camden. I wanted an agency that was good for both landlords and tenants. The agency is extremely professional and everyone makes everything runs smoothly. I first approached Anthony Spittle who convinced me that his team could find good tenants for the flat and he remained involved till end. Anthony was very responsive throughout and I am very grateful for that. Jessica Haynes organised multiple visits and worked hard to gain interest from prospective tenants, show the flat, provide feedback on the visits and ultimately secure the tenancy. Jessica was also very responsive and organised all the necessary checks and services to complete the process. Thank you Jessica and Anthony for all your help, guidance and support, I would definitely recommend you both to prospective landlords.
By Kk Bb
20/06/2018
Ellena Andrea
Your Property Manager named above has been very responsive and thorough in the way she has managed 44 Coppetts Road. Since new tenants have moved in she has contacted me about minor snags in the flat and has responded quickly and efficiently to my queries and requests. Dealing with her has been a pleasure and I congratulate her on her professional approach to her position as Property Manager. As I am responsible for my brother in laws estate it is of significant reassurance for me that Ellena is looking after the property and the tenants' need as I am based in Somerset and can not easily get up to London to deal with these issues.
By Garth Robertson
05/04/2018
Excellent service in a tough market
As a client of Martyn Gerrard for five years, I have always had reliable, professional service. In the current tough market, Anthony, Christian and Jessica went the extra mile to find me tenants and ensure that everything happened on time. Highly recommended.
By Sarah Rozenthuler
20/02/2018
Very professional
My 2-bed flat in Crouch End has been rented out through Martyn Gerrard for 5 years now. Communication has always been easy and my needs always addressed. Anthony Spittle from the Crouch End office always has sound advice for me especially when it comes to finding new tenants.
By Nicholas Muller
* We only display 5 "Most Relevant" Google reviews
Memberships
No membership services information available
Marketing
No marketing services information available
Awards
No award information available
Statistics
Average price in this area
Average Time on Market in this area