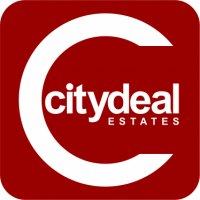 About Us
Year Established
Number of staff
0
Web Site
Contact Information
Contact this branch
Email
mail@citydealestates.com
Sales Phone
020 8896 0800
Sales Email
info@citydealestates.com
Lettings Phone
020 8896 0800
Lettings Email
info@citydealestates.com
Address
115 Churchfield Road
Acton
London
W3 6AH
London
UK
Opening Hours
No information available
Reviews
22/07/2016
Citydeal Estates geave me a firsr class professional service
I found Citydeal Estates extremely helpful, professional, knowledgeable and trustworthy and were a shining star when compared, to the service I received from some other agents.
By John Horgan
25/05/2016
Really easy and prompt service from Citydeal
This was the second time I'd rented in London (and a handful of times elsewhere) and I was really pleasantly surprised by Citydeal Estates. They were prompt and very friendly and polite throughout my tenancy, and always sorted out any problems with the property within a day or two. I've often found with other agencies that once they have you on their books that they are a nightmare to get hold of, however, unlike larger agents, Citydeals always made an effort to reply to emails and let us know of any changes. They were also incredibly good when it came to tenancy swaps and ensuring it was all dealt with as quickly as possible. Would definitely use Citydeals again if looking in this area.
By Heather Fisher
16/05/2016
Alberto made my move so simple
Alberto was very friendly and easy to talk to throughout the entire process. He made my search for a new home so easy and in the end I found a wonderful new space to call home. Your agency is great and I will be referring my friends to you however it has to be said that Alberto is an amazing asset to your team and should be commended for a job well done. Thank you!
By Shanelle Moore
16/05/2016
Friendly and efficient!
Citydeal were very efficient and friendly in doing my the tenancy swap and reference checks for my new flat. Slava, in particular, was very nice and responded quickly to any of my queries.
By Claire Gayle
14/05/2016
Quick, easy and very helpful
Had no problems at all dealing with City Deal Estates - prompt replies to questions and made the whole process really straight-forward.
By Ciarán Steward
23/03/2016
Gabriel Smakowski
I am very much pleased with service provided by Gabriel. It was really comfortable dealing with him as he very professional and co-operating person. I was glad to receive different advice from the beginning my renting. I would like to rate his performance to 100% and I would definitely recommend him for the future purposes
By iwona majewska
* We only display 5 "Most Relevant" Google reviews
No social media available
Memberships
No membership services information available
Marketing
No marketing services information available
Awards
No award information available
Statistics
Average price in this area
Average Time on Market in this area