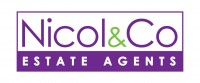 About Us
Year Established
Number of staff
8
Web Site
Contact Information
Contact this branch
Email
worcester@nicolandco.co.uk
Sales Phone
01905 676000
Sales Email
sales@nicolandco.co.uk
Lettings Phone
01905 675999
Lettings Email
lettings@nicolandco.co.uk
Address
46 Barbourne Road
Worcester
Worcestershire
WR1 1HU
Midlands
UK
Opening Hours
No information available
Reviews
08/04/2019
Awful customer service
As potential buyers for a house that Nicol & Co showed us around we found their service from start to finish dreadful. From the phone call I made to book the appointment which nearly put me off going, to the rushed and unorganised viewing, to being put on the spot in front of the vendor to give feedback, to the follow up phone call where even after telling them the viewing wasn't good I didn't get an apology. In all the other dealings we've had with estate agents, we've been really happy with the phone calls and viewings.
By Claire Bradley
24/05/2018
Amazing sales progression
Just wanted to thank Nicol & Co for fantastic service, selling our property days after the brochure was finalised. Particular thanks to their sales progressor Leanne Fletcher who kept on top of our sale and onward purchase (and everyone else's!!) to ensure our buyers were happy and to meet our requested completion dates. Highly recommend!
By Eliza Morris
30/03/2018
Buying in Worcester
Many thanks to Nicol&Co for getting me set up in Worcester. Extremely helpful and very patient with all my daft questions. Particular thanks to Jo Black and Leanne Fletcher! James
By James Moffett
12/03/2018
Sale of House: Worcester
The team at Nicol & Co (Worcester) have been absolutely superb. Notable mentions have to go to Dominique, Daisy and especially Leanne for getting the sale over the line. Despite some tricky times with everything from solicitors to a rather over eager dog; the team have managed to get us through a stressful process without any major hiccups. Massive well done and thank you to you all! Union Place
By James Cronin
01/03/2018
I would like to thank Nicol&co for all there hard work and for selling our property and especially Leanne fletcher for being so helpful kind regards Paula Morris
By Paula Morris
19/12/2017
Moving to our new home
Leanne was helpful and friendly every step of the way when we purchased our house through Nicol and co. We were always kept updated and no problem seemed to faze her, which is exactly what you need when buying a house. I couldn't recommend Leanne, Dominique and the rest of the team more !
By Clare Macfarlane
* We only display 5 "Most Relevant" Google reviews
Memberships



Marketing
No marketing services information available
Awards
No award information available