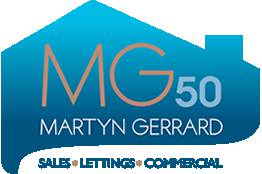 About Us
Martyn Gerrard
Established in 1964 Martyn Gerrard Estate Agents is one of the largest independent estate agents in the North and North West London. We have 10 branches in all of the primary locations where the more prestigious properties are to be found. <p> The Board of Directors have collectively over 120 years of experience in the North London property market. We are incredibl;y proud to have celebrated our 50th birthday in 2014.

Year Established
Number of staff
5
Web Site
Contact Information
Contact this branch
Email
alastairs@martyngerrard.co.uk
Address
365 Regents Park Road
Finchley Central
Greater London
N3 1DE
London
UK
Opening Hours
No information available
Reviews
15/03/2019
Kyri - Martyn Gerard
From the initial time I popped into the Finchley branch Kyri tried everything possible to find me a suitable house. Always attending at each viewing and taking me to houses that he knew would appeal. He was truthful and realistic and in the end worked hard to secure me a great house. If he works tirelessly like this for all his clients then he surely must be commended.
By Michelle Levin
15/03/2019
Really good experience buying property
I had a really positive experience throughout my interaction with Kyri. He was always polite and flexible with his availability. I was surprised how knowledgeable he was about both the property and the neighborhood. Will definitely want to work with him in the future :)
By Radu Hmb
06/02/2019
Great service from Kyri
We bought our first home through the Finchley Central branch and received excellent customer service throughout the whole process. Kyri could not have been more helpful during the offer stage and through all the steps until completion. We were kept up to date with everything that was going on, in a professional and friendly manner.
By Jonathan Bourriquis
06/12/2018
Great trustworthy service
Kyri at Martyn Gerrard has help us at both ends of house selling and buying. Throughout he was consummately professional, completely trustworthy and personable. We really felt that he worked for us on our sell and when things became difficult he really pushed things forward working with all parties involved to make it happen. I would recomend Kyri every time.
By Elizabeth Fisher
15/09/2018
Kyri - Martyn Gerrard - Finchely Central
We are first time buyers and when we shortlisted the property that ticked all boxes, Kyri came across a seasoned professional. He was extremely knowledgeable, courteous and most importantly very responsive to all our queries however basic they could be. Kyri would close all the open loops of what could have been a very daunting process - right from the viewings up till the point of handover. I would recommend Kyri to anyone looking for a property within the Finchley area - without battling an eyelid! Kyri - keep rocking it. You are too good :)
By Raj Thevar
07/09/2018
Marlon is a Star!!!
Marlon was great in all aspects of our house purchase and acted as a transparent and understanding intermediary between the sellers and us.. We exchanged now and are looking forward to complete soon. Many thanks, Marlon and good luck in the future!.
By Antal Rot
* We only display 5 "Most Relevant" Google reviews
Memberships
No membership services information available
Marketing
No marketing services information available
Awards
No award information available
Statistics
Average price in this area
Average Time on Market in this area