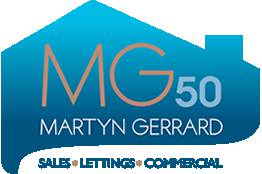 About Us
Martyn Gerrard
Established in 1964 Martyn Gerrard Estate Agents is one of the largest independent estate agents in the North and North West London. We have 10 branches in all of the primary locations where the more prestigious properties are to be found. <p> The Board of Directors have collectively over 120 years of experience in the North London property market. We are incredibl;y proud to have celebrated our 50th birthday in 2014.

Year Established
Number of staff
5
Web Site
Contact Information
Contact this branch
Email
alastairs@martyngerrard.co.uk
Sales Phone
020 8343 2322
Sales Email
en5@martyngerrard.co.uk
Address
4 Exchange Buildings
High Street
Barnet
Hertfordshire
EN5 5SY
South East
UK
Opening Hours
No information available
Reviews
15/10/2018
Great agents, hard working team
Very recently sold out property through MG High Barnet. Dealt with most of the staff in the office but would like to single out Ash, Sophie and particularly Josh. Josh has been our main point of contact and he's been a brilliant communicator, patient and helpful. Would have no hesitation recommending the team to anyone.
By Kati Evans
23/08/2018
Excellent customer service
I recently used Martyn Gerrard for a sale and purchase and I can not recommend them highly enough, Sophie and Josh provided excellent customer service and they always kept me well informed throughout the entire process. Sophie's passion and enthusiasm for her job is very evident. She is highly organised and efficient and very mindful of her clients best interests. I thoroughly enjoyed Sophie's and Josh' friendly and cheerful manner. They are a fantastic team. Thank you so much.
By Lorraine Ev
24/05/2018
Highly Recommend
My husband and I worked with Ash and the team at Martyn Gerrard in respect of the sale of our home in the spring of this year. We couldn't recommend Ash highly enough. His ability to maintain the momentum of our sale, manage difficult negotiations and help progress the sale at times we reached an impasse. Within 24 hours of being instructed Martyn Gerrard were able to secure several viewings and very shortly after that they were able to market the property online which helped to generate a number of other viewings and secure us several offers within a record time. We couldn't recommend Ash or the team at Martyn Gerrard enough and wouldn't hesitate to use them again in the future.
By Somaya Ecvet
11/05/2018
Ash was always quick to respond and helpful in moving the process along to completion. We were very happy with the service he provided.
By Adam Tahsin
20/04/2018
Thank goodness for Ash
We sold our home through Martyn Gerrard and Ash took over from Rachel who went on maternity leave. His professionalism and work ethic were second to none. We had a lot of issues with the people buying our home and honestly if it wasn't for the way Ash handled everything the deal would not have gone through. 100%. I cannot recommend Ash and Martyn Gerrard enough and want to take this opportunity to say a massive THANK YOU. All the best, Joey Glynne
By Joey Glynne
13/03/2018
Excellent experience
Despite a much longer than anticipated sale of our property due to various external factors, Ash from MG kept our spirits up the whole time. His patience is amazing and we are very grateful. He remained calm and professional at all times no matter what was thrown his way. Thank you, you deserve a medal! I would also like to say thank you to the rest of the Barnet branch and in particular Susan, Rachel and Sophie whom all had to deal with this.
By Lorna Sladojevic
* We only display 5 "Most Relevant" Google reviews
Memberships
No membership services information available
Marketing
No marketing services information available
Awards
No award information available
Statistics
Average price in this area
Average Time on Market in this area