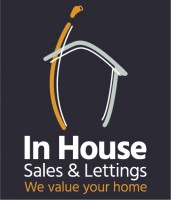 Our team
Download our App to find out more about individual agents
About Us
In House Sales and Lettings
Founded in 2007, In House Sales & Lettings are an independent estate agent operating in Wallingford, Didcot, and the surrounding villages. After the success our Wallingford office achieved, we opened a second office in the heart of Didcot, the Orchard Centre. We know that moving house is a big decision, and so we like to provide you with straight-talking, honest advice that will help you during the process. If in doubt, don't worry, our expert team are always on hand to answer any questions you may have throughout the course. As our team live locally, you can rely on us to provide you with knowledge of the local areas. We understand that no two homes are the same, so why let yours be treated like everyone else's?

Year Established
Number of staff
3
Web Site
Contact Information
Contact this branch
Email
orchard@inhouseestateagents.co.uk
Sales Phone
01235 355999
Sales Email
orchard@inhouseestateagents.co.uk
Lettings Phone
01235 355999
Lettings Email
lettings@inhouseestateagents.co.uk
Address
Orchard Centre
Didcot
Oxfordshire
OX11 7LG
Midlands
UK
Opening Hours
Monday-Friday 09:00-18:00
Saturday 09:00-16:00
Reviews
11/10/2019
Top class
Would recommend In house did a great job very quick to respond to any question i needed to know, quick sale Jamie and Luke very professional.
By Mark F
Reply from agent
Hi Mark, Thank you very much for the review, we're glad Luke and Jamie were able to help you. IH
26/04/2019
Amazing service
We have just completed on our first home through in house estate agents and the service we have received has been excellent! At what is a stressful time in purchasing a property Jamie at in house has been amazing in chasing everything up for us and going above and beyond! Would highly recommend in house estate agents!
By Antonia Thomas
04/09/2018
Very efficient and extremely patient agent
Used Inhouse before with the purchasing of my property a while back, but had to relocate for work purposes. I decided to use their service again. Really impressed with their service. I needed to have my house sold and the process (sale and purchase) completed within 3 months. I was also in a long chain. Inhouse was upfront with me in getting the process through in three months, which I appreciated. Still, they were able to find me a buyer, coordinate the chain (solicitors and other agents) to completion in less than 3 months! Very happy with their service and would not hesitate in using their service again. Thank you Inhouse!
By Ed Huang
Reply from agent
Hi Ed. Thanks for your kind words. Its great that you experienced consistency. Jamie says that you were a pleasure to work with. Good luck with everything. IH. X
31/07/2018
Excellent
Great service, dawn is really friendly, fast to reply to queries and always happy to help
By John Somerton
Reply from agent
Thanks John, nice of you to say so. IH. X
18/07/2018
We as tenants were very pleased with how Dawn helped us find a property. After looking at a property we had found through Inhouse but it not being quite right for our family, as soon as one became available Dawn called to tell me that a property had become available that was more suited to us and arranged a viewing. As I was moving from quite far dawn ensured she spoke to me regularly on the phone keeping me updated etc. I cannot fault anything about whole process and the way we have been looked after and I know Dawn is only a phone call away if I need any advise.
By Samantha Toomer
Reply from agent
Thanks Samantha. As they say its all about communication. Glad you are enjoying the tenancy. IH. X
16/07/2018
Outstanding service from a friendly efficient Agent
Tenant; I have had the pleasure of having Dawn as my estate agent for the last 2 years and cannot praise her highly enough. She showed me round the property on the day of my initial enquiry and I moved in within 1 week. She inspects the property regularly and even managed to argue my case for no annual increase this year. Best agent I have had as a tenant.
By Anna-Louise Regan
Reply from agent
Thanks Anna-Louise. We find that treating tenants with respect usually makes sure that they treat the property in the same way. Cheers. IH. X
* We only display 5 "Most Relevant" Google reviews
Memberships



Marketing
No marketing services information available
Awards
No award information available