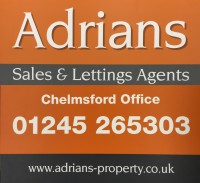 About Us
Adrians
ADRIANS Estate Agents Adrians are a comprehensive residential practice covering Chelmsford city and the surrounding villages offering expert advice on property matters. We have been market leaders in Chelmsford for over 40 years and thousands of people have chosen us to handle their sales. Every year a high percentage of instructions received are from people that we have acted for in the past or who have been recommended by satisfied clients. We feel that this is a testament to our aims and objectives to provide the best possible service to everyone that we deal with whether buying or selling. We are known not only for our experience, knowledge of the area and professionalism but also for the quality of our service. Adrians have one of the most experienced sales team in Chelmsford with two resident partners assisted by an enthusiastic and highly experienced sales team approaching 100 years combined experience.

Year Established
Number of staff
5
Web Site
Contact Information
Contact this branch
Email
njessup@adrians-property.co.uk
Sales Phone
01245 265303
Sales Email
info@adrians-property.co.uk
Lettings Phone
01245 265621
Lettings Email
info@adrians-property.co.uk
Address
16 Duke Street
Chelmsford
Essex
CM1 1UP
South East
UK
Opening Hours
No information available
Reviews
28/04/2020
A challenging sale!
Having to sell your parents home is never an easy or enjoyable thing to do, especially after a sudden loss and needing to provide care for a vulnerable parent. Having had several agents round to value and sell the house, we were immediately impressed by our first meeting with Gary Ketley and were happy to appoint Adrians. An open house was speedily set up all handled by our agents and a quick sale was soon on the cards. However a complication concerning a power of attorney issue put a spanner in the works which, to cut a long story short, made things considerably harder. We must say that we were incredibly impressed with the patience and professionalism of all at Adrians during this long and difficult time and after securing another buyer for us we are happy to say that the sale went through recently. We are more than happy to highly recommend them as all that a good estate agent should be!
By Peter Smith
04/09/2019
Second time around - speedy sale
Gary and the team have recently sold our family home in Chelmsford. This is the second time we have sold a house in Chelmsford through Adrian's and on both occasions they found a buyer within a week of the property being marketed. Lots of experience of the local market is invaluable for realistic valuations. Would always recommend you getting Adrian's to quote. Just remember not to call Gary Adrian.
By Neil M
10/04/2019
Amazing service, second to none in the industry
Having just completed the purchase of a house for the first time in 25 years we couldn't have asked for better, more professional estate agent to handle the transaction. The industry has come a long way since we last bought a house and Adrians are a credit to Estate Agents nationally. From offer through to completion Gary and the team kept us informed of the progress, where needed they moved things along with sellers solicitor, at no point did we feel anything other than a valued client. As a buyer or seller I'm sure you couldn't ask for or find better.
By Antony Brown
07/11/2018
Professional, polite, personal.
Thank you to everyone at Adrian's estate agent for handling our sale so efficiently. You really looked after us from start to finish, keeping us informed throughout and providing us with a workable timeframe. We appreciated that whenever we contacted you, you remembered our details and took the time to speak with warmth and professionalism. D Lamb
By deane lamb
Reply from agent
Deane, thank you for your comments - we are pleased that everything worked out for you and wish you the best for the future. James
31/07/2018
Second to None
As per review title says my wife and I found that Gary and other members of Adrian's should have title of Second to None, We found that they clearly made sure that as OAPs we needed a little extra time to be aware of all the details however large or small were understood by us both. I had approached two other agency's before I approached Adrian's who by now had been recommended, immediately I witnessed a totally different approach to giving advice on how to sell what is your home. Also we were made aware that the values given by other agency's were not as big a target to aim for and needless to say that the figure set by Gary of 40.000 to 50.000 more was reached by our buyer. To finalise our comments we can only say that Xmas has come early for us and we both would like to thank Gary and other members of Adrian's for all their efforts to come to a very satisfactory conclusion thank you. Patrick and Doreen Durrant
By Patrick Durrant
Reply from agent
Many thanks Pat / Doreen for your kind words, really appreciated, glad it all worked out for you, all the best in your new property
27/07/2018
Used for sale of house
I used Adrians for the sale of my property recently. After an initial meeting with Gary I felt confident they would market it well and be easy to deal with. And indeed they were and in particular James was a great help throughout the process. Great communication and advice throughout which is what you want when selling a house!
By Rob Galley
Reply from agent
Rob, thanks for taking the time out to give us your review. we wish you the best in your new home. Regards James
* We only display 5 "Most Relevant" Google reviews
Memberships
No membership services information available
Marketing
No marketing services information available
Awards
No award information available
Statistics
Average price in this area
Average Time on Market in this area